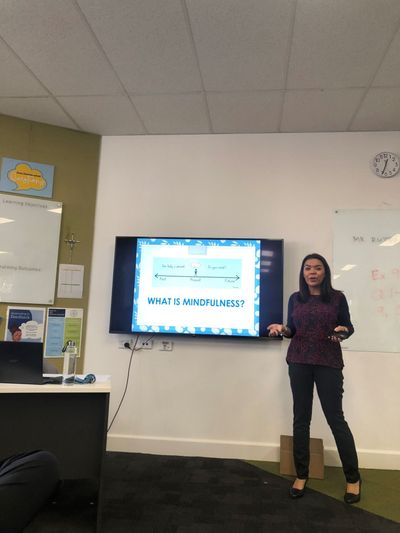 Underpinned by the Mercy Education Values, the Year 7 Nourish Program focuses on the students becoming and feeling truly connected within the St Aloysius community, building a sense of belonging and resilience. The program helps students to develop a Growth Mindset, helping them to achieve their academic potential and a love of learning. Students also gain an understanding in building and maintaining respectful relationships and being compassionate to others. Through a differentiated curriculum, the Nourish Program, and a focus on educating the whole person for the whole of life, in Year 7 we help each student to understand her own unique educational needs and empower students to be the driver of their own learning, not a passenger. This week in Nourish we were lucky enough to have our College Psychologist Eden Foster present. Her focus was "Mindfulness." While our Year 7s have the opportunity to practice mindfulness each day in period 5, they really appreciated having Nourish session set aside to help them better understand not only the importance of this practice but also the personal benefits. By giving each student in our care the tools to navigate their own mindfulness opportunities, we can foster a sense of being grounded in an otherwise busy world.
Tamara Lourdes, Year 7 and Transitions Leader
Mindfulness is a powerful tool that supports children in calming themselves, focusing their attention, and interacting effectively with others, all critical skills for functioning well in school and in life," said Amy Saltzman, M.D., director of the Association for Mindfulness in Education, and director of Still Quiet Place. "Incorporating mindfulness into education has been linked to improving academic and social and emotional learning. Also, mindfulness strengthens some underlying development processes—such as focus, resilience, and self-soothing—that will help kids in the long run.